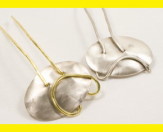 Metal & Wood Hair Sticks
Patent No. 5,249,589
$19.00/pair to $199.00 each
Our beautiful Metal Hair Sticks are hand fabricated, fused and hammered Nickel Silver, Brass and Sterling Silver. If you would like an all Sterling Silver piece, please call for a price.
The length of the metal prongs varies from 3-5 inches (the most common length is approximately 3"); however you can request any length that will suit your needs.
Please note that you have choices - styles as shown - or you can request a different combination of metals, etc.
Natural beeswax is applied to protect the patina of the metal. If you decide to polish it, we recommend using a polishing cloth sparingly (lightly polish the surface) so that as the metal ages the hammer marks and other characteristics of the design are accentuated.
Our Wood Hair Sticks are not lacquered but are conditioned with a mixture of beeswax and oil. The length and thickness of the Wood Hair Sticks will vary; the length is approximately 4-1/2" to 5" and are approximately 1/4" thick at the thickest point. If you want them a particular length, ask and we will do our best to accommodate your needs.
Please feel free to call or email with any questions or special requests. hairthings@aol.com