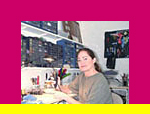 About the Artisan
Melanie Moore owns U S Patent U.S. Patent No. 5,249,589.
Sold in a New York Minute - It's not everyone who can march down Madison Avenue and collect dozens of orders, but then, not everyone can make hair accessories the way Melanie Moore does. Moore had long admired the elaborate hair ornaments that European women often wore, but had a hard time finding them in the United States. She decided to make a few for herself, and was stopped so often by people admiring her handiwork that she realized she could start a business.
Wholesale Success - After enjoying much success in the Madison Avenue boutiques, Moore entered her first wholesale show, and sure enough, Saks Fifth Avenue, Barney's Bergdorfs, and Neiman Marcus all placed orders. But after a few years, the big stores began asking her to make her hair accessories more cheaply. "I felt like I was cutting corners, so I decided to find a way to sell them myself," Moore says.
Elaborate Styles - Moore has developed several different types of hair accessories, from snoods to French twist combs to wooden hair sticks. Each is handcrafted with a variety of materials, from vintage beads and lace to dried pond grasses and fishnet. She often draws people into her booth at craft shows to teach them how to use the accessories to create dramatic new hairstyles. "I don't let them leave without feeling secure that they know how to put the snood on or use the comb," she says.
Chasing Down a Hair Ornament - By now, Moore is used to having people stop her on the street to ask where she got her hair accessories. But one of her customers was a little unnerved by a similar experience. There she was, running to catch a plane, when she realized that another woman was actually chasing her. The other woman finally caught up enough to ask her where she found her hair ornament. "If you're ever on the East Coast, you'll have to go to a Sugarloaf show," the woman was told. Talk about word of mouth.